Meet Jaz & Lee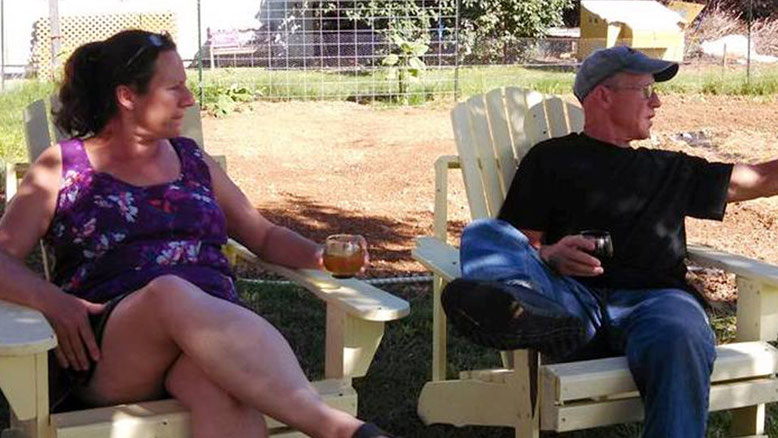 Purple Roster Organics is a small, 10 acre organic farmette located in the Shenandoah Valley just west of the town of Edinburg, Virginia. We share our 'funny farm' with 60 laying hens, a dozen roosters, 100 laying Khaki Campbell ducks,  two farm cats, two Chocolate Labs, and tens of thousands of honey bees. We are dedicated to growing fresh vegetables, fruit, berries, nuts, seeds, & herbs and to producing delicious chicken and duck eggs from fowl that spend their days out in the pasture enjoying bugs, sunshine and fresh salads. We feel a deep responsibility for the animals under our care and for good land stewardship. Growing organically with sustainable methods is an integral part of our life's philosophy.
We realized going into this adventure that it was not a "get rich quick (or ever)" scheme. Growing food organically  and using sustainable farming practices requires lots of determination, money, hard labor, and patience . . . and not always in that order or in equal measure. It takes time to convert traditional farmland into nutrient-rich, arable, fertile soil; and organic seed, animal feed and soil amendments are expensive, as are the myriad tools and equipment that enhance soil tilth, friability and biomass while minimizing environmental impact. Picking bugs off plants by hand is much more time consuming (read "expensive") than using synthetic chemicals, and organic food grows more slowly without the use of conventional pesticides, herbicides, fertilizers and growth hormones. And, sometimes, it feels like the wildlife could easily take over if we dare to close our eyes for a rest.
We believe that the food we choose to consume determines our health and longevity, and that we must be responsible stewards of the environment. With a combined 40 year experience as healthcare professionals, and despite the obstacles to organic and sustainable farming, we believe strongly that this is the path towards healthier food, air, water, land, and people.