Real Farmers Don't Have Gardens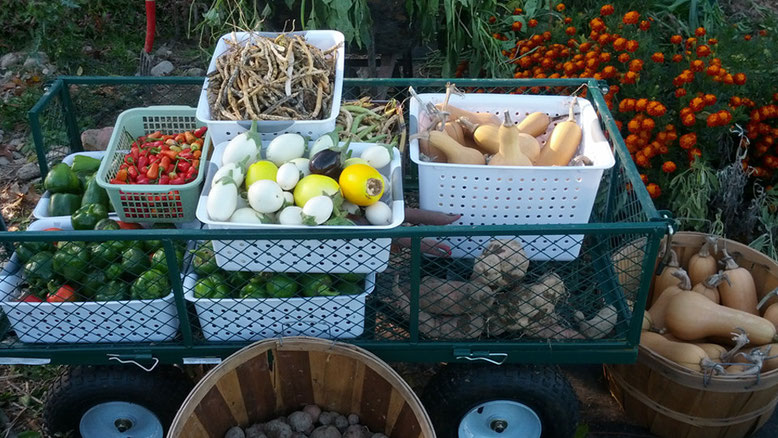 Lee likes to say we are decidedly not "real" farmers. And it's true that neither of us thinks of ourselves as "farmers". Some folks have called us hobby farmers but really our goal as always been to grow as much of our own food as we can so that we can be self-reliant with as little impact on the environment as possible .
As is often the case with living one's passion, Purple Rooster Organics took on a life of its own. The first spring we transplanted 30 asparagus crowns, countless raspberry, blueberry, blackberry and goji berry bushes, and set our sights on creating a 3,000 square foot vegetable garden. (This is where Lee points out that "real" farmers don't call the spot where they grow veggies "gardens.") As it turned out, the garden was more prolific than either of us could have imagined. Jaz canned as much and as fast as she could, yet we still gave away hundreds of pounds of produce. We also pasture-raised 25 Freedom Ranger broilers and processed them ourselves over the course of two very cold, very windy November weekends.
Based on this overabundance of food, and perhaps optimistically, we decided to look into joining a farmers' market or two where we could sell our bounty. Our first market season was a great learning opportunity and reinforced that there is, indeed, a place for Purple Rooster Organics in our community. We began expanding our products to include Jaz's Artisan Bread, which has been very well received by customers, and, more recently, AmaZing Granola. Adding new products also provided other opportunities to grow our collaborative network.
For example, Country Rhodes Farm used our Peasant Bread to highlight their locally raised and processed sausage at the 2015 Taste of Shenandoah, and Jaz uses Bubba's Sweet Nectar - a Shenandoah Valley honey producer carried by Country Rhodes Farm - in her granola. We recently added a flock of ducks to our menagerie to provide eggs to Swover Creek Farms & Brewery for use in their quiche and award winning sausages. (By the way, these sausages are made with Country Rhodes Farm pork, and the pigs eat the leftover grain from the brewery's production.) These collaborations among Shenandoah Valley farmers and small businesses is not uncommon and incorporates a vibrancy and sense of community into work that could be very isolating.
So, anyway, after that first growing season, we began to imagine and talk about how we could expand our growing ability while staying small, since neither of us is getting any younger! Eventually, we agreed to add more growing space on a one acre plot at the rear of our property and planted several different cover crops to add nitrogen, other nutrients and biomass to the soil. Then we planted several varieties of fruit and nut trees to complement our berry patches, and we built a hoop house to extend our growing season into the winter. (This is where Jaz points out to Lee that they are, indeed, farmers, even if on a smaller scale than some of their neighbors!)