In the News
Occasionally, Purple Rooster Organics is in the news, or we come across an exceptional article or newsworthy event that impacts the organic and sustainable farming community and, well, anyone who eats food. We will post the articles or links to the articles right here for easy access. We welcome your suggestions, too. Just email them to Jaz via our Contact form.
---
Cover crops a growing practice
NVDaily's Keven Greens interviews Lee Draper about the use of cover crops.
Northern Virginia Daily - Oct 21 2015.pd
Adobe Acrobat Document
402.6 KB
---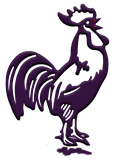 Edinburg vegetable growers take a turn at farmers markets
"In less than a year, Edinburg residents Jaz and Lee Draper, of Purple Rooster Organics, have gone from self-sustaining vegetable farmers to vendors at area farmers' markets."
Northern Virginia Daily - Aug 6 2015.pdf
Adobe Acrobat Document
381.8 KB
---