Gifts & Gear
The following local or regional shops and businesses are Rooster's top picks for Gifts & Gear. We snuck in a few non-local/regional resources because they're awesome on so many levels. Click on a business logo to visit the shop's website.

---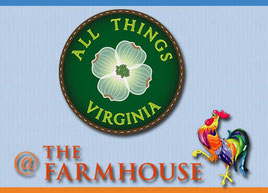 All Things Virginia at the Farmhouse carries, well, all things Virginia: apple butter, candy, syrup, crafts, art, craft beer and wine – they have almost everything imaginable produced in our beautiful commonwealth. Check their website for scheduled tastings of all kinds!

---

While Bear Wallow Glove Company isn't local, they feel like family right off the bat. If you're looking for great work or garden gloves, look no further. These folks have the best darned work and garden gloves on the planet AND excellent customer service.
---